Lara Jean style might be a fictional dream from the Netflix Original on e-v-e-r-y-o-n-e-s lips To All The Boys I've Loved Before, but it's all we can think about right now. We also totally get why this is the new love story for Gen Z. From the representation of Korean American characters (representation matters 👏) to the cutesie feels and Peter Kavinksy's adorablenes. Here's our official love letter to LJ and her closet.
 Lara Jean style @ the airport
So we've sensed a pattern with Lara Jean's style and once you've got that down, it's pretty simple from there. She loves her gold coin necklaces, high neck tops  and button detail skirts so make sure you've got a few of these essentials to-hand. Remember this sweet look from the airport scene? Could it get any more Miss S? Try on this baby blue cord skirt and you've nailed it.
Lara Jean @ home
We're keeping it casj-cool with this look guys. Throw that that striped high neck top + necklace combo we learnt earlier under a pair of essential black dungarees. Turn up the fashion by making them corduroy. We love this outfit for daytime strolls, so don't forget those comfy sneakers and a cute little locket for touch of romance.
Lara Jean @ the cinema
We truly felt our LJ in this scene. Being the third wheel, you still wanna look totally cuffable ('tis nearly 'I miss you' season, guys). A patterned mini dress + a bold-coloured beret + delicate jewellery = a fail-safe outfit formula for autumn. Add patent loafers for a tres chic vibe.
So there we have it, our guide to dressing more like LJ. Girl's clearly got signature style, and we've nailed it down to three key looks. Now all we need is Peter Kavinksy on our arm 💗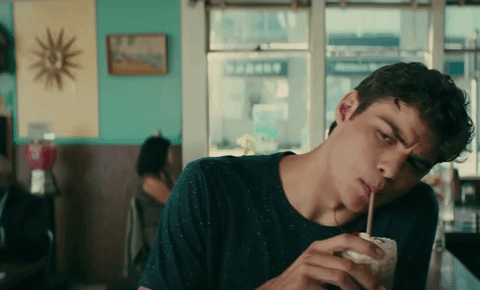 Wanna know who else we're feeling? Here's our free guide to how to be more Dua Lipa.